Google Daydream View: Release date and price

Daydream View was announced on October 4, 2016. Google has long been interested in virtual reality. But if in the past this resulted in experiments such as Google Cardboard, then the release of the Daydream platform is Google's first serious step in the field of VR. Together with the new platform, the company also introduced Daydream View virtual reality glasses. Let's see what is the virtual reality of Google.
Same information told in the video:
Google Daydream View: Advantages and disadvantages
Price
Ergonomics
Great controller
Growing content library
Integrated audio nit really good
No voice control
Google Daydream View: Ergonomics
The Daydream View looks as good as fells and ergonomics all at all nearly perfect. The weight of glasses without a smartphone is 220 grams (for comparison, Gear VR weighs 345 grams), and a soft fabric base and a ventilated insert around the eyepieces allow you to use them for a long time without experiencing discomfort. Daydream View fits on the head by simply attaching from one stretchable tape with adjustable length. Despite this, the glasses do not fall down and generally keep well. This might beat most of the competitors at least with its convenience and comfort.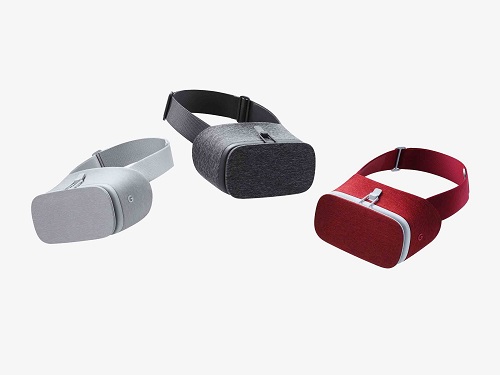 Google Daydream View: Design
Google Daydream View is a futuristic piece of clothing that is made mostly from fabrics. This approach at Google is explained by the fact that the designers tried to ensure the most comfortable use, and secondly, that the person does not look like a robot in them. It's hard to say about the second statement, but it's really convenient to use Daydream View.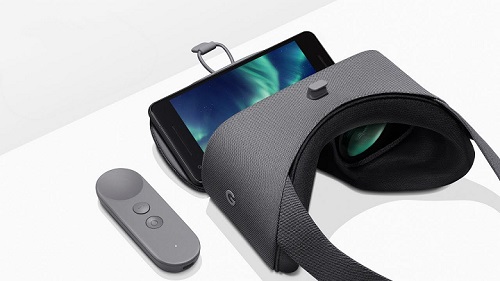 Google Daydream View: Performance
Only the NFC chip is integrated into the Daydream View, there are no other electronics with glasses. To use them, you will need a smartphone with Daydream app pre-installed, which is inserted into a detachable niche and is mounted on magnets, while all this is held on literally one elastic band. It does not look very reliable, but the installation takes just a couple of seconds.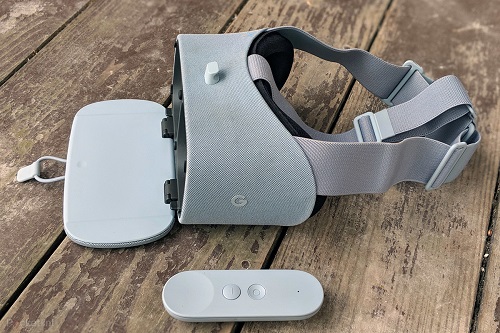 Last but not least, this is achieving due to the fact that the smartphone does not need to be specifically positioning inside the glasses, the Daydream platform automatically adjusts the image on the screen to fit the eyepieces. Also we need to notice that not every smartphone is suitable for Daydream, Google separately certifies models, and at the moment the Daydream platform only works with Google Pixel and Pixel XL, and also has to earn on Moto Z and Moto Z Force, after smartphones receive an update to the seventh version of Android.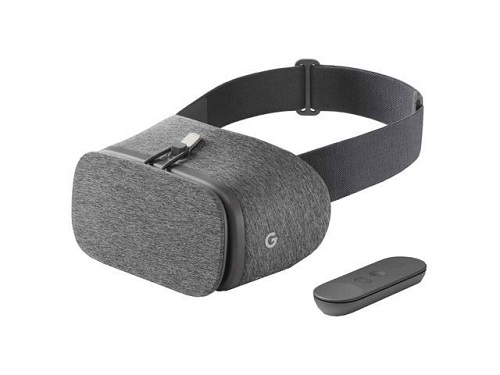 All Daydream View control is carried out using the complete controller, which in some games can also serve as a joystick. It contains a gyroscope, an accelerometer, a touchpad, two mechanical buttons (menu and exit to the main screen), as well as a volume control key.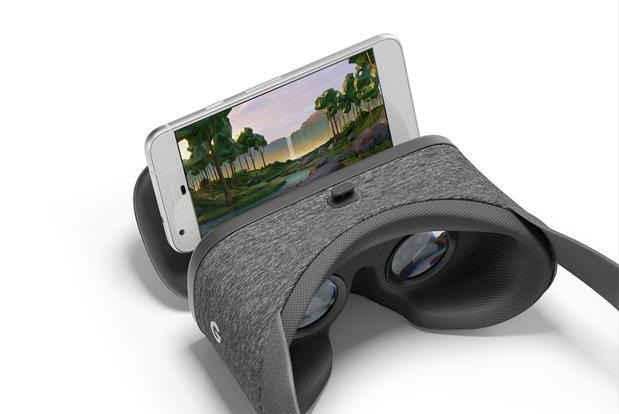 It works on a 220 mAh battery and charges via USB Type-C port. In the Daydream interface, which is a panel with square icons, the controller is displays in the manner of a laser pointer. To select the desired application in the interface, you just need to point the controller at it, and to start, click on the touch panel.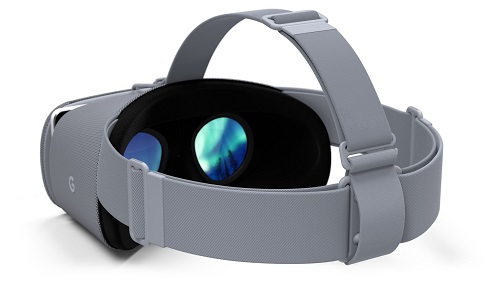 Unfortunately, like all modern mobile virtual reality glasses, Daydream View cannot track the user's position in space, so the interface, if necessary, must be manually moved into view. To do this, you need to hold down the exit key on the main screen on the controller. In general, Daydream View is intuitive and easy to control.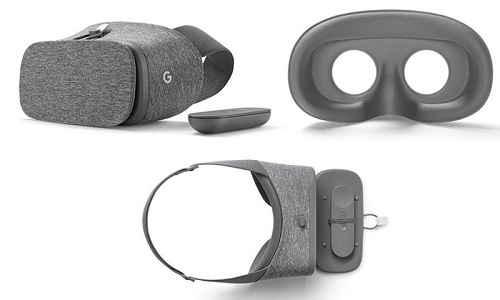 Despite the lack of focus adjustment, users with poor eyesight can use Daydream View with glasses. Unfortunately, even without them, the Daydream View does not completely overlap the view, in the lower part, even with proper fixation, there remains a large gap through which the light passes. This allows you to focus on what is happening on the screen, however, the immersion effect is not as deep as on the same Gear VR. You also might notice that your phone heating and eat to much battery, so to use anywhere far from a charger will be a risky idea. Also, you check out our other reviews: HTC Vive Pro, Oculus Gear VR.
Google Daydream View: Own Opinion
Google Pixel XL is a phone with a high-resolution screen and grate hardware all in all it gives you an unbelievable result. You will not notice pixels while using it but if look into more you might see them. Snapdragon 821 doing its job perfectly and gives you a perfect image for this VR headset. But its success depends on the content that will be available there a lot of things that you cal already download as YouTube VR, Star Chart VR, CNN VR, Google Arts&Culture, Google Photos, Fantastic Beats and a lot more! Also, there is a lot of content that is coming, so it might be a pure success for google.
Google Daydream View: Conclusion
Daydream View is the first virtual reality glasses for Google's Daydream platform. Unfortunately, they did not get rid of the main problems of mobile VR, however, this is a good start for the company. Moreover, Daydream is a platform on the basis of which other manufacturers will be able to create their own virtual reality glasses. In general, buying a Daydream View makes sense if you have already become the owner of a Pixel smartphone and you want to try virtual reality without overpaying for expensive VR helmets.